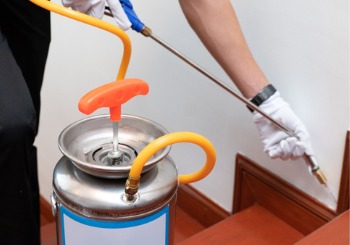 Are You Searching For The Best Pest Control In East Peoria IL?
Nobody likes a pest! Whether it's mice, roaches, spiders, termites or any other pest, we know you want them gone immediately. So for fast results, call the top pest control in East Peoria IL: Albert's Termite & Pest Control.
Why Choose Albert's For Pet Control In East Peoria IL?
We know fast and guaranteed results are important to our customers, so that's what we promise. Everyone at Albert's will treat your home or business the same way we'd treat our own. We wouldn't want pests in our home, and we don't want you to have to deal with them, either.
Our customers love our effective services and our conscientious work:
We never tie you into a lengthy contract. If you want ongoing maintenance, we are happy to provide that, but it's not a requirement.
Our customers value competitive pricing, so we work hard to provide it. Unlike most companies, we do not usually require an in-home inspection before we quote a price. Most of the time, we can handle this over the phone by asking you some basic questions. That helps us keep our prices as low as possible.
As a family-owned business, we have served the Peoria area for more than 40 years. In that time, we have helped thousands of people rid their homes and businesses of all kinds of pests.
How Safe Are Pest-Control Chemicals?
We understand some people feel concerns about having their homes treated with chemicals. But rest assured, the safety of you, your home or business and of everyone there is of the greatest importance to us.
You'll be glad to know the Environmental Protection Agency has approved every single chemical we use, and all of our technicians are licensed through the Illinois Department of Health. In addition, all our technicians are insured and bonded.
Are Termite Inspections Necessary Before Housing Purchases?
Termite inspections are an important part of buying or selling a home, and Albert's can help. We provide inspections for VA, FHA & RD loans as well as for conventional lending and refinancing.
Are You Ready To Get Rid of Whatever Is Bugging You?
We can fix your pest problem quickly. For the pest control East Peoria IL trusts, call Albert's Termite & Pest Control at 309-455-5206.