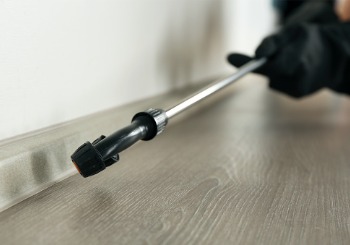 Your Trusted Exterminator for Peoria IL
Have you found rat droppings around your home? Are there cockroaches scuttling across your floor? You need an exterminator in Peoria IL! Albert's Termite & Pest Control is your trusted exterminator for the Greater Peoria area. For over 40 years, our family-owned business has been helping households and businesses with pest control problems, ridding properties of invasive guests. Our experienced exterminators use safe and effective traps and pesticides that will drive pests away and keep them away.
Why Hire Professional Exterminators?
Rodents, insects and other pests are more pervasive than you might first think. Worse yet, signs of insects like termites aren't always apparent before the damage has been done. Ultimately, if you suspect a pest infestation on your property, calling a professional is of the utmost importance. Additional reasons you should opt for professional pest control include:
Receive access to professional-grade pest control solutions that are tailored to your needs
Exterminator services can prevent significant damage from occurring due to infestations
Avoid the risk of doing DIY pest treatments and potentially worsening issues
Exterminators are trained to identify subtle signs of pests before they multiply and spread
Protect yourself and your family from diseases spread by pests
Exterminator services provide long-term solutions to pest problems, not just quick fixes
Hiring a professional exterminator ensures that your safety is taken into account while using pesticides
Signs You Require Pest Control
From damage to your furniture to rodent droppings around the home, there are telltale signs your home's interior is falling victim to hungry and destructive pests. To discover pest problems before they get worse, here are some obvious red flags pests have made it onto your property:
Seeing rodent droppings, nests, or dead rodents in your home
Discovering holes in food containers, packaging or walls
Noticing unexplained spots and stains on carpeted surfaces
Finding insects like cockroaches, flies, ants and spiders scuttling around the house
Having furniture damaged by wood-destroying pests
Hearing strange noises coming from behind walls or inside vents
Safe Pest Treatment Options
At Albert's, we understand your household's care, health, and safety are crucial; otherwise, you wouldn't be asking for an exterminator in Peoria IL! However, many pest treatment options use dangerous traps and chemicals that can harm pets and children. Conversely, Albert's only uses the safest pest treatment solutions. Our traps and pesticides are all approved through the Environmental Protection Agency, and our exterminators are fully certified through the Illinois Department of Health.
Contact Our Office
You shouldn't have to share your home with unwelcome guests; pests are no different! Hire a professional exterminator in Peoria IL to ensure the complete and safe elimination of pests on your property. Contact Albert's Termite & Pest Control today at 309-839-9840 to request a quote. We serve residential and commercial clients in Peoria, East Peoria, Morton, Pekin and the surrounding communities.